CCTV Pipe Inspections
Action Service's CCTV sewer and pipe inspections utilize the latest technology to provide a complete survey. Using our crawler camera, we can inspect lines 6-60″ in diameter. We utilize robotic crawlers, small pipe push cameras, and documentation software in modern inspection vehicles.
Action Services is a full service inspection provider. Excavation services prior to inspection services can be arranged for proper access. A complete report is provided, recorded on state of the art formats. In addition, the crawler camera is mounted on a UTV so we can drive our equipment into tough terrain and through difficult situations.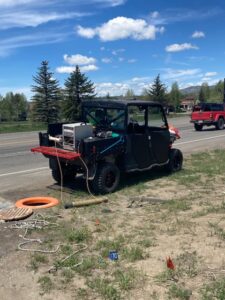 We help to provide answers a variety of challenging applications; including the inspection of sewer, water, storm water lines, dams, manholes, wet wells, vessels, and electrical conduit. As well as underground infrastructure, pipeline, and confined space inspections.
Most importantly, customers depend on the experts at Action Services for diagnosis of problem drains and internal inspections of pipe with professional, timely service. Call us to schedule your inspection today.
Example Push Camera Inspections
Property transfer sewer inspections from house to city mains or septic system
Troubleshooting problem drains or systems (backed up drains)
Locating of drain lines, septic tanks, and determining depth
Certified septic system inspections (NAWT)
Refinance inspection
Looking into confined spaces
Example CCTV Inspections – Crawler Camera Rovver X
New acceptance inspections, confirming proper installation
Preventative Maintenance Program & insurance reporting
Dam Surveys
Infrastructure mapping and service tap locating
Problem drain identification and locating
Hazmat-area and confined space viewing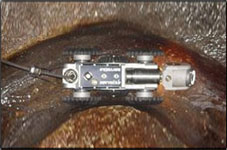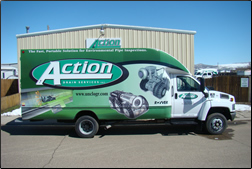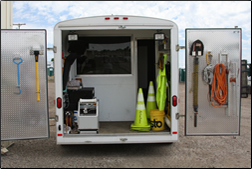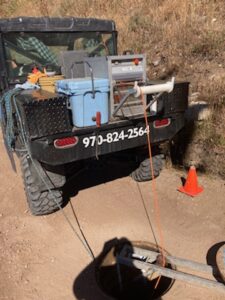 Septic Inspections
Additionally, Action Services is providing septic inspections for property transfers and problem diagnosis. With NAWT certified technicians, our septic inspections are the most thorough assessment in the area. We use our push camera to check condition of the drain line, inspect the tank components, run operating tests and provide a complete report of any issues or problematic points. Septic inspections can help to avoid very costly repairs to your system in the future. In conclusion, call to schedule a septic inspection today.